The Interiors Yard Meets Beauvamp
When The Interiors Yard met with Beauvamp and chatted all things lampshades, tassels and frills!
Alice founder of Beauvamp | Left
Abbi founder of The Interiors Yard | Right
I had such fun working with Abbi at The Interiors Yard on the latest lampshade addition. Our paths crossed over 15 years ago when we used to work together in the events industry and so it's been really nice to get back together and catch up about our passion for interiors and the path we have carved since. We got busy chatting about all things lampshades, tassels and frills which then lead onto our latest venture together.
Allow me to introduce the Beauvamp Tiffany Ruffle Lampshade dressed in a neutral pinstripe linen fabric, sourced especially for The Interiors Yard. It makes a soft but subtle statement that works really well over table as a single or even double pendant.
Hand stitched and pleated around a bespoke bronze frame with a ruffle skirt, we hope you love it as much as we do.
It was great to chat over brunch with Abbi and she had a few questions lined up for me….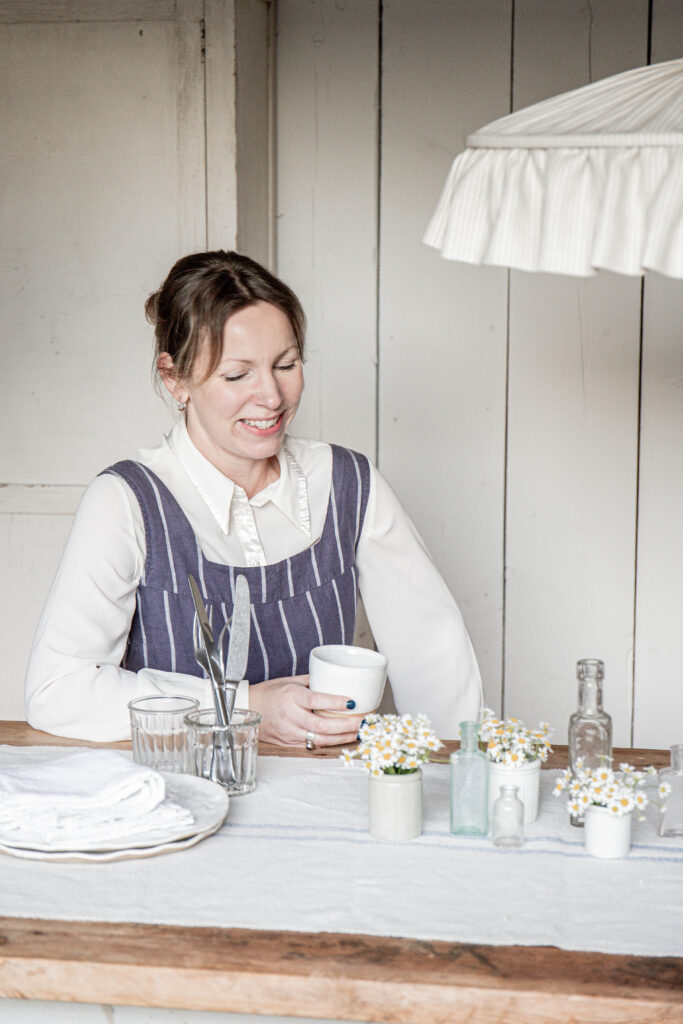 So, Alice, tell us a little bit more about Beauvamp and why it all began?
It all began 15 years ago when I decided I wanted to work for myself whilst balancing life with a young family. I've always enjoyed making things and especially within the home. Before kids, we had a couple of full scale renovations under our belt and so the natural choice was to think about how I could make a business that would involve my love for interiors and the home. In the early days the business involved painting and upcycling furniture that eventually led onto restoring wooden lampstands and in turn seeking out those one off antique lampshades for the finishing touch. Struggling to find more of these lampshades, I knew the only way forward was to design my own from scratch. After a lot of in depth research into the craft I developed the skillset needed to offer a new take on the old fashioned lampshade, drawing and designing my own shapes from concept to completion.
What are Beauvamps core brand values?
We specialise in creating luxurious hand stitched lampshades, combining traditional sewing techniques with vintage inspired design and contemporary style. We put handmade unique design centre stage, keeping old traditions alive and creating beautiful sustainable heirlooms for generations to come. Here are a few of our most important brand values:
British Quality Craftsmanship – each lampshade is made from scratch, from an initial sketch to producing the bespoke frame shape, using traditional sewing techniques and giving the utmost attention to detail.
Unique Design – taking inspiration from bygone eras such as the Arts & Crafts movement, we are giving each classic element a unique twist, whether it be a pleat, ruffle, bold stripe or tassel, we enjoy working closely with local businesses to produce all our own elements from the frame shapes to exclusive fringing collections that are then spun on local looms here in Derbyshire.
Sustainability – each fabric is carefully chosen for its unique character and natural qualities such as handwoven khadi cottons, upcycled silks, natural linens and recycled cottons. As each lampshade is made to order, it means we can keep production costs and fabric requirements just at the right level to meet demand without wasting time, resources and money.
Longevity – as each lampshade is handmade, it's completely unique each time, made with time honoured techniques of the highest quality, resulting in beautiful, timeless, heirlooms for the future.
Where did the name Beauvamp come from?
Well originally I was painting furniture and really liked the name 'RE-VAMP', which I later found out was already taken, so it was actually my husband who came up with the French 'BEAU' which translates as 'beautiful', so it then became BEAUVAMP.
Where do you get your design ideas and inspiration from?
Im a huge fan of the Arts & Crafts movement and have long admired homes and interiors that capture this elegant heritage style. My designs are influenced by many eras including this along with the Art Deco, Art Nouveau, Renaissance periods.
Who do you make lampshades for and where do they end up?
From the humble beginnings on the kitchen table, I now work with a small team from our studio in Wirksworth and have had the pleasure of designing shades for a variety of high end restaurants in Europe and here in the UK we have just finished working on a project for the Soho House Group. They even go as far afield as Japan for an Interior Design company as well as working closely with top UK interior designers on projects for the home.

What goes into making a Beauvamp lampshade?
All our lampshades are made to order using traditional techniques. Each frame is webbed in cotton ready for the fabric to be cut, chalked and machine sewn which in turn is then ready for hand stitching to the frame. A large proportion of our fabrics are then intricately hand pleated around the top of the frame. Each shade is then finished with a selection of carefully sourced braids, fringes or our hand sewn ruffles. We give a lot of love and attention to detail with each element being inspected before moving onto the next.
What's next for Beauvamp?
I've got a never ending list but on that list are more collection ideas and new shapes, plus I've recently collaborated with a lighting design company who have helped me produce an art nouveau inspired brass lampstand which I can't wait to introduce. I've had some linen fringing made locally which is just waiting to be paired with some nice new linen lampshades. Wall lights are definitely on the agenda, plus more hand pleated 'Ruffle' stripes will be coming out in more colours for Summer! I would also love to get my bolster cushion design set in motion, so lots to plan and think about for the year ahead!