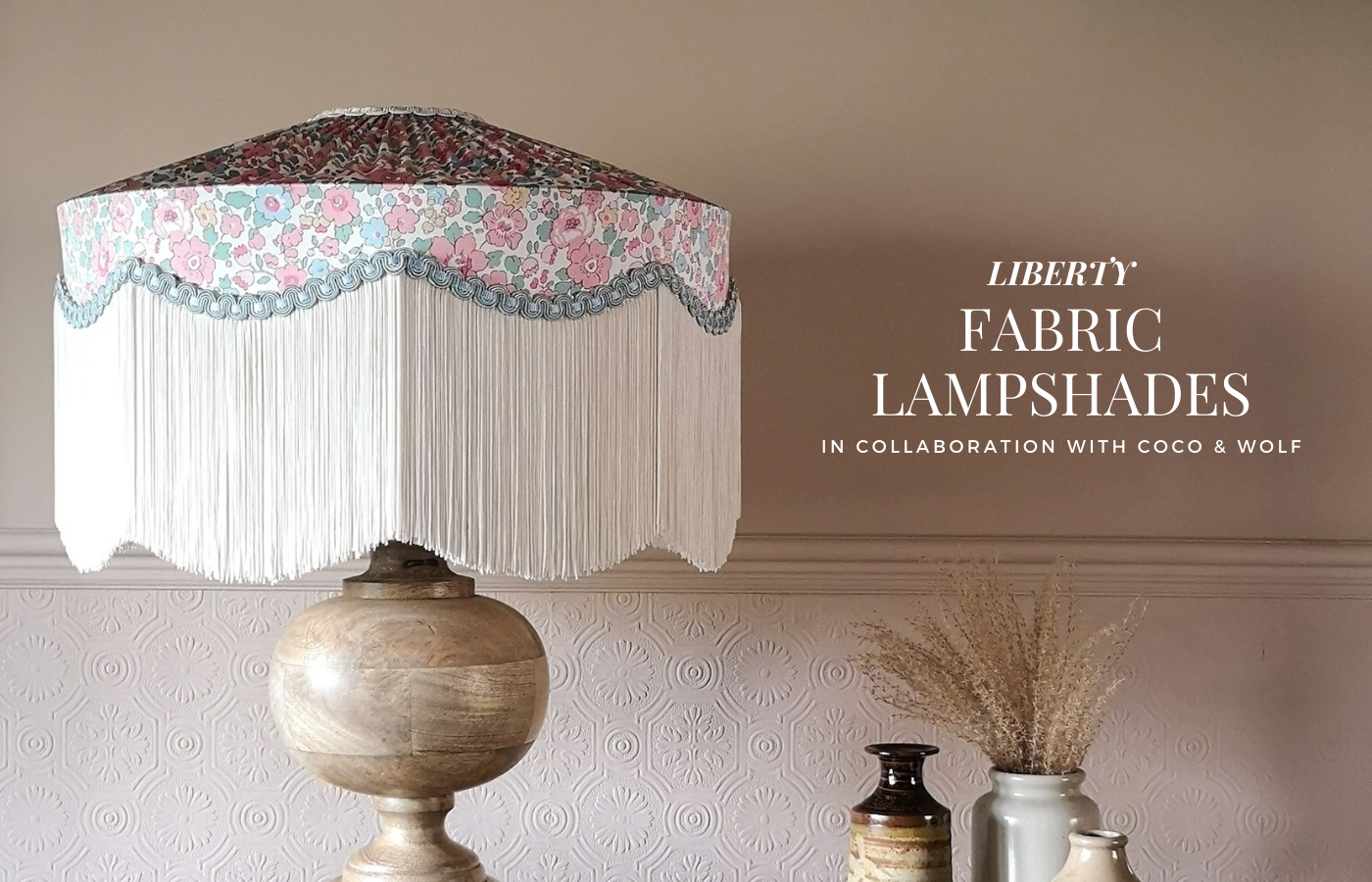 We are thrilled to introduce our new and exclusive collaboration with luxury homeware brand Coco & Wolf.  After marvelling at their extensive range of Liberty fabrics and passion for quality craftsmanship, we knew a partnership would bring the very best elements together for a fine new lighting collection.
Vintage inspired in design but contemporary in style, we have produced six new lampshades using a mix of Liberty silk and cotton lawn, with each design hand pleated around our bespoke bronze frames. A variety of carefully co-ordinated trims along with our locally spun fringing, add the final touch to these tailor made statement shades.
About Coco & Wolf
Coco & Wolf is a contemporary and luxury lifestyle brand using premium Liberty fabric and beautiful soft washed linens. They sell luxury, heirloom pieces for you and your little one, all handmade in their Somerset design studio. From the tiniest clothes to the prettiest bedding, Coco & Wolf, believe every home has a space for Liberty's quintessentially British prints. Their collections consist of carefully considered and designed pieces, from fitted cot sheets, quilts and duvet sets to pillowcases, cushions, throws and now lampshades.
"I'm a huge fan of the arts and crafts movement and have long admired homes and interiors that capture this elegant style, so I was beyond thrilled to connect with Amy at Coco & Wolf and embark on this creative journey sharing our passion and love for British prints. Their brand ethos fits in perfectly with our own here at BeauVamp, where handmade unique design takes centre stage, keeping old traditions alive and creating beautiful sustainable heirlooms for generations to come. We hope you enjoy our new collection"
Alice, BeauVamp Founder
The Prints
We have had the pleasure of working with a number of show stopping prints from subtle and soft to vibrant and bold. Which one will you pick to showcase your unique sense of style?